Home
Recertification for South Dakota Food Safety Managers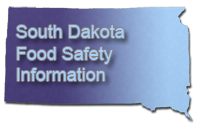 Certified Food Managers (CFM, CPFM):

Food service establishments in South Dakota are required by law to have at least one person on staff who has passed an approved food service manager training program (a CFM). There must be at least one CFM or a food handler working during all business hours.







If you need to renew your unexpired CFM, there's good news! You don't need to travel to sit for a proctored exam - you can renew your certification online in just a few hours.




South Dakota Food Safety for Managers Recertification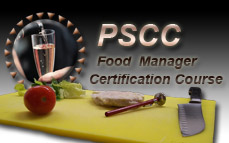 Requirements: In South Dakota, at least one person in charge in each food service establishment or mobile food service must be a certified food service manager. To renew your unexpired CFM, you may take this course online - no proctored exam required!
Food Safety for Managers Recertification
***RECERTIFICATION COURSE APPROVED***
Are you already certified and need a recertification course?
PSCC offers a re-certification course that has been approved by the South Dakota Department of Health. An existing food manager whose certification has not expired can take their recertification course entirely online and there is no need to take an additional proctored exam. Upon successful completion of the course, they will be certified for another 5 years.
Food Manager - Recertification Course
Approved by:
Department of Health
South Dakota Food Service Establishment Guidelines
600 East Capitol Ave
Pierre, SD 57501
605-773-3361
Food Safety Certification for Managers $49.95
Price with employer account $39.95*
*Employer accounts require minimum initial purchase of $19
You will have access to the course and be able to review the course material for 365 days after you log in to the course initially.
If you need to train your employees in safe food handling techniques, this information may be valuable to you:
Requirement for South Dakota Food Handlers
Responsible Serving® of Food, South Dakota Requirements:
ALL Food handlers must be able to demonstrate knowledge (per South Dakota statutes). There must be at least one food handler (or a CFM) on staff during all business hours. Food handler knowledge must include:
Required Knowledge must include details of cooking food statutes 44:02:07:28; and cooling food statute 44:02:07:32; clean tableware 44:02:07:25; and sanitation statutes 44:02:07:56 and 44:02:07:58.
Examples of training requirements:
The minimum cooking temperature for pork, beef or other potentially hazardous foods
How long these different foods have to be at that temperature before they are safe to eat
The time allowed to cool potentially hazardous foods to the appropriate temperature
Appropriate cooling procedures
Many more...
These are just a few of the questions this course answers. The interactive online
Certified Food Manager
Course
from PSCC will provide you with a good grasp of proper management in a food handling environment - from cross contamination to equipment and utensils to regulatory requirements. The online
Food Safety Certification for Food Handlers Course
will give your servers and food handlers the knowledge they need to act as responsible food handlers.
---